Emergency Locksmith in Washington, DC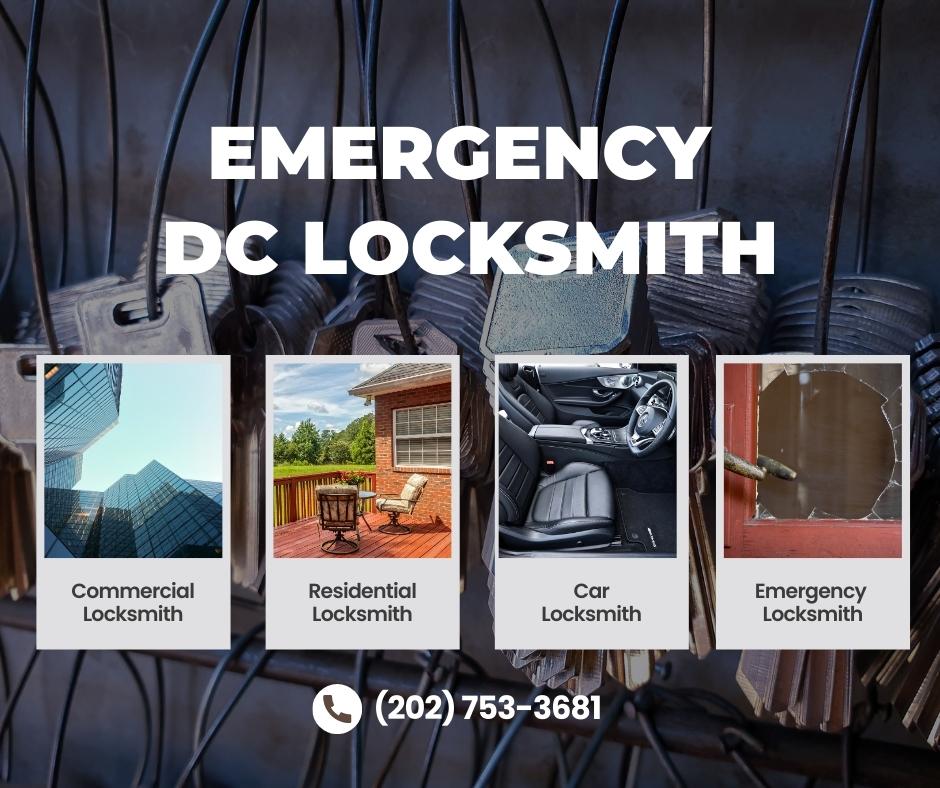 Welcome to Emergency DC Locksmith, a leading provider of emergency locksmith services in the Washington, DC, area. With years of experience and a team of highly skilled and trained locksmiths, we have built a reputation for expertise and reliability in providing emergency locksmith services.
24-hour emergency locksmith services
Our services include lockout service, rekeying, key replacement, lock installation, lock repair, high-security lock installation, keyless entry systems, intercom systems, CCTV cameras installation and more.
We cater to the security needs of all residential or commercial properties by providing a wide range of services that cater to different property types.
Emergency Lockout Service
If you are ever in need of an emergency locksmith in DC, then look no further than Emergency Lockout Service. Our highly trained professionals are available 24 hours a day, 7 days a week, to provide quality service for any lockout situation.
We specialize in residential, commercial and automotive lockouts and offer quick and reliable solutions to get you back inside your home or car.
Our state-of-the-art technology guarantees the highest level of security and satisfaction. Don't hesitate to call us today for fast and reliable emergency services.
Key Replacement, Rekeying and Installation
Our key replacement service can supply you with a new set of keys if you lose or misplace your current ones. We can produce keys for various properties and vehicles, including houses, automobiles, and business structures.
Another service we provide to protect the security of your property is rekeying. This service entails modifying the lock's internal mechanism so that it may be opened with a new key.
This is a low-cost option to improve the security of your home, mainly if you are concerned about lost or stolen keys.
We also provide installation services for new locks for your house, automobile, or business. Let our team of experts guide you in choosing the perfect lock for your home and guarantee it is correctly installed for maximum security.
High-security lock installation
Our high-security locks are designed to resist picking, drilling, and bumping, making them ideal for properties that require a high level of security. They are also designed to be tamper-proof, ensuring your property is always protected.
Our high-security locks are also equipped with advanced features such as key control and restricted keyway, which limits the number of people who can access your property.
Keyless entry systems
Keyless entry systems are not only convenient, but they also offer an added level of security. They eliminate the need for physical keys, which can be lost or stolen, and they also provide the ability to track who has entered the property and when.
Keyless entry systems are a modern and convenient way to control access to your property. Especially for businesses, it can prove to be a valuable tool for monitoring employee access. At Emergency DC Locksmith, our team of experienced locksmiths is equipped with the knowledge and equipment to provide you with keyless entry system installation, repair and replacement services.
We cater to properties of all sizes and offer a wide range of options to meet the diverse needs of our clients. From simple code-based systems to more advanced biometric systems, we have the perfect solution for you.
Intercom systems
Intercom systems are a vital component of any security system, providing an easy and efficient way to communicate with visitors and authorized personnel.
Our intercom systems are designed to provide clear and reliable communication, ensuring that your property is always secure and protected.
We offer a variety of intercom systems to choose from, including wired and wireless systems, analog and digital systems, and standalone and integrated systems.
CCTV cameras installation
Our emergency CCTV cameras installation service is available 24/7, so you can rely on us to be there when you need us the most. Whether you have a new construction project or an existing property, we can design and install a CCTV system that meets your specific needs.
We offer a wide range of CCTV cameras, including IP, HD-CVI, and HD-TVI.
Our cameras can be accessed remotely from any device, allowing you to monitor your property from anywhere.
Burglary Repair
Our emergency burglary repair service includes boarding broken windows and doors, repairing or replacing damaged locks, and reinforcing entry points to prevent future break-ins.
We understand that the aftermath of a break-in can be traumatic, and our team will work with you to provide a safe and secure environment.
In addition to our emergency burglary repair service, we also offer additional security solutions such as CCTV cameras installation, alarm systems, and access control systems to provide an extra layer of security for your property and give you peace of mind knowing that your home, car, or business is safe and secure.
Response Time and Customer Satisfaction
We understand that emergencies can happen at any time, which is why we offer 24/7 availability. Our locksmiths are always on call, day or night, to provide you with the assistance you need.
Whether you are locked out of your home, car, or business, we will be there to help you. Our locksmiths have the knowledge, tools, and equipment to handle any emergency locksmith need, from simple lockouts to complex security system installations.
We pride ourselves on our prompt response time. We understand the importance of timely and efficient service, which is why we promptly respond to every call to minimize disruptions to your daily life.
At Emergency DC Locksmith, we pride ourselves on our fast response time and our commitment to customer satisfaction. When you call us, you can be sure that our team of experts will be on their way to you as soon as possible, ensuring that you get the help you need promptly.
Our ability to handle any emergency locksmith need and our dedication to providing the highest level of service sets us apart.
We strive to exceed your expectations and ensure you are delighted with our professional and reliable service, meeting your security needs.
Additional Security Solutions
In addition to our standard emergency locksmith services, we offer additional security solutions such as keyless entry systems, GPS tracking systems, and alarm systems.
These options provide an extra layer of security for your property and give you peace of mind knowing that your home, car, or business is safe and secure.
We also offer a wide range of lock replacement services for all properties and vehicles. Whether you need a replacement for your door locks, trunk locks, or ignition cylinder, our experts can help you out.
All our locks are made from high-quality materials designed to last. With our replacement service, you can ensure that your property is always secure and protected.
Contact Us
Trust our experience and expertise to keep your property safe and secure. Don't hesitate to contact us. We are here to help.
You can reach us by calling (202) 753-3681. Our friendly and professional team is always ready to assist you.
You can also fill out our online contact form on our website with any questions or inquiries. We understand that emergencies can be stressful, so we strive to provide our customers with the best service possible, ensuring that their security needs are met promptly and efficiently.