Residential Locksmith in Washington, DC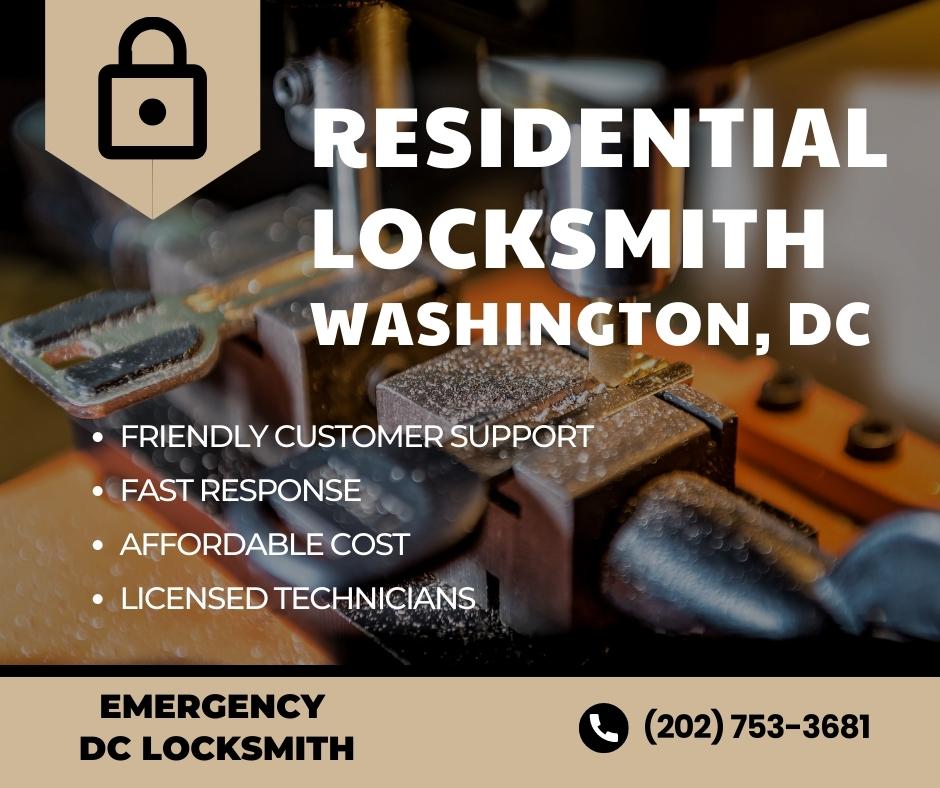 Our Residential Locksmith Services in Washington, DC, are top-notch and provide a wide range of services. From providing emergency assistance to dealing with lockouts and key replacements, our team has the skills and knowledge to handle any residential locksmith situation. We can also install, repair, and replace locks and provide rekeying services.
Our certified technicians work quickly and efficiently and guarantee customer satisfaction. We understand the importance of providing secure locks for your home, and our services reflect that.
Whether you need new locks installed or an existing lock repaired, our experienced staff can help. We provide fast and reliable service at competitive prices and guarantee our work.
Our residential locksmith services provide the peace of mind you need to protect your family and property.
Types of Services Offered
Home Lock-Out
Emergency DC Locksmith is accessible all hours of the day, every day of the week, in case you find yourself locked out of your house. A professional locksmith from our company can assist you in regaining access to your house if you've been locked out. With our help, you can get into your house fast and efficiently. Residential lock installation, repair, rekeying, and other services are also available from our company.
We provide mobile locksmith services because we realize how crucial it is to have rapid access to a locksmith in an emergency.
Get in touch with us immediately if you need prompt, trustworthy assistance.
Home master key system
Our master key system allows you to easily manage who has access to your house without carrying around a bunch of individual keys. We provide professional key duplication services so that you may avoid changing the whole lock system if you ever experience the unthinkable and lose or damage your keys.
If you ever have an emergency, our team of skilled professionals is here for you, night or day.
You can trust us to maintain your house's security because of our service's professionalism and dependability.
Locks repair
Look no further than Emergency DC Locksmith if you need locks repaired in the DC region. In terms of fixing locks, no one does it better than our team of skilled locksmiths. We are pleased to provide prompt, dependable service at reasonable rates. Duplicating keys, rekeying locks, installing locks, and replacing locks are all part of our services to fix locks.
To provide any locksmith service you may want, we have the expertise to assist you. When you need help, you can rely on our 24/7 emergency service to get to you quickly and take care of whatever the problem is.
Give us a call right now to set up a consultation.
Security consultation
Emergency DC Locksmith offers a wide variety of security services, including our top-of-the-line security consultation. If you're looking for an experienced and reliable locksmith for your home or business, Emergency DC Locksmith is a perfect choice. Our team of professional locksmiths is trained to provide expert advice on improving your security and preventing theft.
We will evaluate your current security system and make recommendations based on your needs. Our team can advise on the best locks, door hardware, and access control systems to help keep your property safe.
We also offer installation and repair services for all types of lock systems. With Emergency DC Locksmith, you can rest assured that your security needs are in good hands.
Upgrade your security
Our emergency DC locksmith service can upgrade your security to the highest standards. We will ensure that your residence or business is protected with the best locks and security systems available. With our expert team of technicians, we can install and maintain a variety of locks and security products to ensure the safety of your property.
Whether you need to replace existing locks, install new ones, or upgrade to more advanced technology, we are here to help.
Our emergency service is available 24 hours a day, 7 days a week, so you can rest assured knowing that you and your property are always safe and secure.
Garage locks
Emergency DC Locksmith is the best option if you require dependable, high-quality garage locks. To ensure the safety of your garage, we have a variety of high-quality locks. Our locks are durable and built from high-quality materials that prevent them from breaking for a long time.
You can rest easy knowing that your property is secure in the hands of our specialists, who are well-versed in installing and maintaining garage locks.
Our services are quick and effective, so you won't have to wait around while we repair your lock.
Keyless Entry Locks
Look no further for a dependable 24-hour locksmith in Washington, DC! With the aid of our skilled locksmiths, you may have peace of mind knowing that your keyless entry locks will always function properly. Quick and reliable service is our forte, and we provide it to residential and business customers. We have the most advanced and secure keyless access locks on the market.
Because of how simple they are to set up and operate, they are an excellent option for any building.
You may relax knowing that your DC home is secure after using our 24-hour locksmith services.
Mailbox lock replacement
Emergency DC Locksmith provides mailbox lock replacement services to keep your house or company safe.
Our skilled locksmiths can replace any mailbox lock, from simple keyed locks to complicated computerized locking systems. We also provide emergency lockout and repair services, so you don't have to worry about being unable to access your mailbox.
With our quick response time and affordable charges, Emergency DC Locksmith is the ideal alternative for all your mailbox lock requirements.
Residential Locksmith 24 Hr
Stay out of your home when you need a locksmith in the DC area! Emergency DC Locksmith is here to help with any residential locksmith needs, 24 hours a day. Whether for a lock change, rekeying, or even if you've been locked out of your home, our experienced technicians are available to provide fast and reliable service.
We pride ourselves on our quality artistry and always strive to provide the best customer service possible.
Call us now and get the help you need quickly and securely.
Why Choose Our Residential Locksmith Services?
Welcome to Residential Locksmith in Washington, DC! We are the premier residential locksmith service provider in the area and are proud to offer our customers the best possible security solutions. We know that keeping your house safe is a top priority. Therefore we work hard to provide competitive rates without sacrificing quality.
Our experienced technicians are trained in the latest residential lock technology and have extensive experience working with all types of locks, from traditional deadbolts to advanced keyless entry systems. Lock installation, rekeying, and repairs are just some of the many services we provide to guarantee the safety of your house.
Our team can also assist you with lockouts and emergencies, so you can rest assured that you will always have access to your home.
When you choose us as your residential locksmith, you can count on us to get the job done right the first time. We guarantee customer satisfaction with every job and back up our work with a one-year warranty on all products and services.
You may count on us whenever you need us, day or night since we provide emergency services around the clock.
At Residential Locksmith in Washington, DC, we pride ourselves on providing quality services and excellent customer service. With our years of experience and commitment to excellence, you can trust us to provide you with reliable, secure solutions for all of your residential lock needs.
Contact Us
If you require a residential locksmith in Washington, DC, look no further than Emergency DC Locksmith! Contact 202-753-3681 for all your residential locksmith needs in the DC area.
Whatever your locksmithing needs may be, we're here to assist.