Car Locksmith in Washington, DC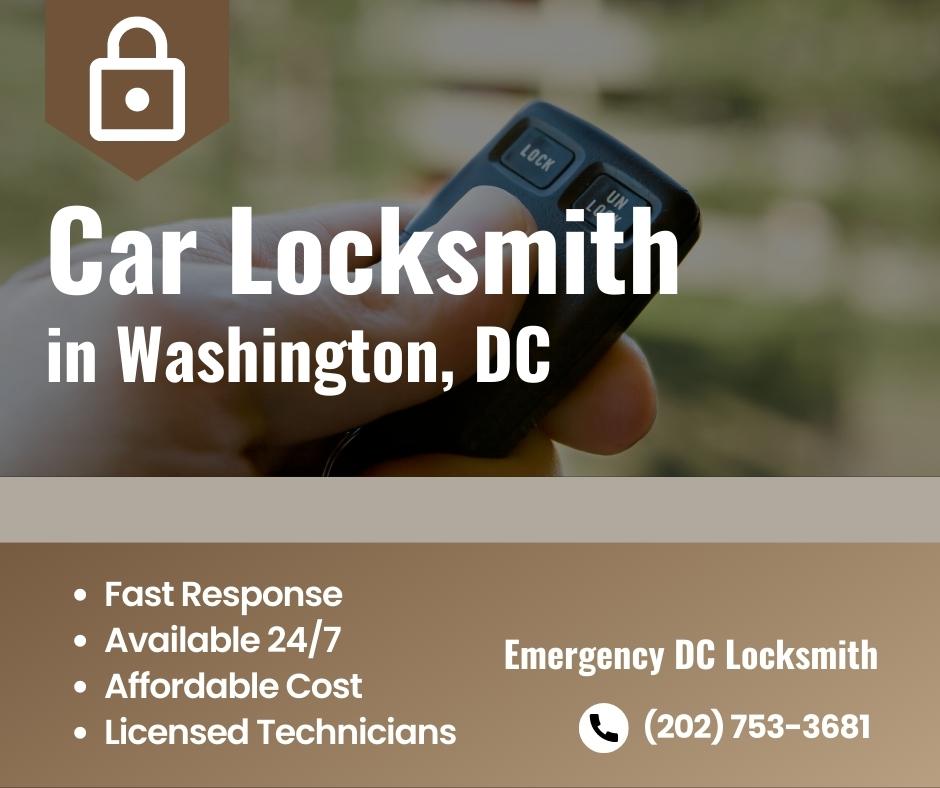 Don't freak out if you are locked out of your automobile in the Nation's Capital. Emergency DC Locksmith is here to help. Our car locksmith services are available 24/7, and we specialize in lockouts, key extractions, ignition repair and replacement, transponder keys, and rekeying. We also offer emergency services for vehicle entry and ignition repair, so you can be sure that help is always available.
All our services are competitively priced and come with a satisfaction guarantee, so you can rest easy knowing you're getting the best service possible.
Contact us today and let our friendly staff show you why we're the top choice for car locksmith services in the nation's capital.
Our Main Services
Transponder key programming
If you are in need of emergency locksmith services in DC, look at our car transponder key programming service. Our experienced technicians have the skills and expertise to quickly program your transponder keys so you can be back on the road in no time. Since getting back on the road is crucial, we work hard to accommodate your schedule by offering convenient appointment times on the same or the following day.
All of our work is backed by a satisfaction guarantee, so you can rest assured that you will be satisfied with our services.
High-end security installation
Our team of experienced locksmiths has the expertise to install various high-security systems in your vehicle. We specialize in providing top-of-the-line protection for vehicles of all sizes and types. Our locksmiths can install various sensors, alarms, and cameras to protect your car from intruders. Additionally, we can provide keyless entry systems, ignition control systems, and other sophisticated security systems.
With our fast and reliable service, you can rest assured that your car is secure.
Lock repairs
We specialize in automotive lock repairs, from simple key replacements to complete lock system rekeying. Our team of experienced and certified locksmiths can provide fast, reliable service for your vehicle. We understand the importance of getting you back on the road quickly, so our technicians use only the best quality parts and materials for each job.
Not only do we guarantee prompt and professional service, but also competitive prices.
Car lockout assistance
If you need immediate assistance with a car lockout, look no further than Emergency DC Locksmith. We offer 24/7 emergency services to help you get back into your car without damaging it. Our experienced locksmiths use the latest tools and techniques to unlock your vehicle and quickly get you on your way.
The satisfaction of our clients is our priority, which is why we work hard to meet their needs at a reasonable cost.
Key-cutting services
Our experienced and highly trained locksmiths are available 24/7 to provide you with the best car key-cutting services in the area. We use only the latest technology and top-quality materials to cut your keys, ensuring that they are made to last for years. We also offer lock repair, rekeying, unlocking, and more services.
With Emergency DC Locksmith, you can rest assured that your car keys will be cut accurately and securely.
Key replace
When you need an emergency DC locksmith to replace your car key, trust the experts at ABC Locksmith. Our experienced locksmiths can provide fast and reliable service for all kinds of cars. We offer a wide range of replacement car key services, including transponder key programming, duplication of lost or broken keys, and more.
With our 24/7 emergency service, we can ensure your car is up and running as soon as possible.
Car Unlock
Emergency DC Locksmith is available 24/7 to help you get back into your vehicle quickly and safely. All makes and models are within the scope of our expert technicians' unlocking services. We understand that being locked out of your car can be a stressful and inconvenient experience, so we do our best to provide fast and reliable service at an affordable rate.
We also offer key duplication, lock repair, rekeying, and more.
Lock upgrades
At Emergency DC Locksmith, we understand the importance of keeping your car safe and secure. That's why we offer car lock upgrades to ensure your vehicle is as secure as possible. Our professional locksmiths can upgrade your existing car locks to the latest technology, including high-security, electric, and more. We will ensure your car is secure from potential intruders and protect your valuable items inside.
For added convenience, our locksmiths are available 24/7 for emergency services.
Carlock and door repairs
We specialize in car lock and door repairs, providing fast and reliable customer service. Our experienced technicians are available around the clock and can be onsite within minutes of your call. We use only high-quality products and state-of-the-art tools to ensure that all repair work is done quickly and efficiently.
Our team can also provide additional security solutions such as key duplication, rekeying, and master key systems for extra peace of mind.
Ignition issues resolution
Call an emergency DC locksmith immediately if you're having issues with your car ignition. Our team of experienced professionals can quickly assess the problem and provide the most effective solution. We have the tools and expertise to resolve any car ignition issue, from a simple misalignment to more complex problems.
In no time at all, thanks to our prompt response and trustworthy service, your car will be ready to hit the road again.
Trunk unlock
An Emergency DC Locksmith can rescue you if you're stuck with a locked car trunk. We are experienced and qualified professionals who specialize in unlocking car trunks quickly and safely. With our expertise, we can quickly identify any problems that may be causing your trunk to remain locked and apply professional solutions. In addition to our emergency services, our locksmiths can provide various other services, including rekeying, repairing, and replacing locks.
Broken key extraction
If you are in Washington, D. C and have experienced a car broken key extraction, an emergency DC locksmith can provide quick service to get you back on the road. We will come to your location with the latest tools and methods to extract the broken key from your car and quickly replace it with a new one.
Whether you need assistance during regular business hours or emergency assistance after hours, a DC locksmith is here.
Lock replacements
If you're in need of car lock replacement services in the Washington, DC area, Emergency DC Locksmith is the place to turn. Our experienced locksmiths are ready to provide you with quick and reliable service. We offer many car lock replacements for all vehicle models and makes, including door locks, trunk locks, and ignition cylinders.
Experts from our team will collaborate with you to choose the best course of action.
Why Choose Us
DC auto locksmith services are many. Emergency DC Locksmith's attention to customer service and ability to address different client demands makes us unique.
First, our qualified and experienced locksmiths can handle any automobile locksmith requirement, from lockouts to security system installations.
We utilize premium chemicals and equipment to secure your automobile to industry standards.
Second, we're available 24/7 since auto lock troubles may happen anytime. Our locksmiths are available 24/7. We'll assist you if you're locked out of your vehicle, need a key replacement, or need a new lock.
Third, we respond quickly. To minimize disturbances to your routine, we respond quickly to all calls.
Fourth, we can manage any auto locksmith demand due to our client satisfaction. We strive to deliver the best service possible and ensure your satisfaction.
Finally, Emergency DC Locksmith provides the finest auto locksmith services. We can secure your automobile thanks to our customer service and competence to meet every car locksmith's demand.
Our professionals will safeguard your automobile with competent and trustworthy servicing.
Keyless entry, GPS monitoring, and alarm systems are available in addition to our auto locksmith services. These features provide your automobile with more protection and peace of mind.
Car lock replacement services for all makes and models are also available. Our professionals can replace door locks, trunk locks, and ignition cylinders. All of our auto locks are composed of durable materials.
Please don't wait until it's too lat