Commercial Locksmith in Washington, DC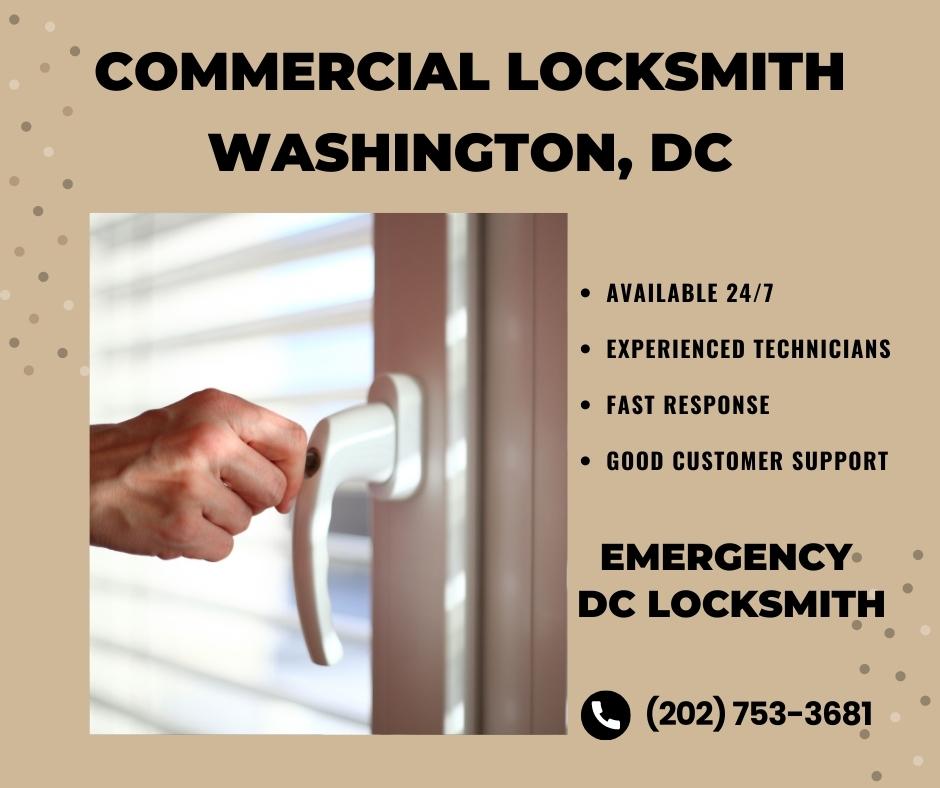 One of the top companies in the Washington, DC, region for business locksmith services is Emergency DC Locksmith.Our team of highly competent and qualified locksmiths, coupled with our years of experience, have enabled us to establish a reputation for professionalism and reliability in the field of commercial building security.
Our locksmiths are prepared to handle a variety of business locksmith services, from simple key cutting to intricate security system installation.
We are accessible every day of the week, round-the-clock, so you can count on us to help whenever you need it.
Our dedication to providing excellent customer service and our ability to meet commercial locksmith demand make Emergency DC Locksmith the ideal choice for your company's security requirements. Additionally, our locksmiths are constantly prepared to handle any emergency lockout assistance.
You can rely on us to be there when you need us, prepared to provide you with the dependable service you need.
Services Offered
​
Emergency DC Locksmith offers commercial master key systems services to businesses in the Washington, DC, area. A master key system is a type of access control system that allows different levels of access to different areas within a commercial property. The master key system is designed to provide efficient access management. Only authorized personnel can access certain areas while maintaining security by limiting access to specific areas. This eliminates the need for multiple keys, which makes it more convenient for employees and management. Our experienced and professional locksmiths can design and install a master key system tailored to your business needs. We use only the best quality products to ensure the system's longevity.
Rekey, repair, and replacement of commercial locks
Emergency DC Locksmith provides commercial services like rekeying, repairs, and replacements since we know how important it is to keep your company safe. To guarantee that only authorized people have access, we may rekey your current locks, repair any damage to keep them functional and replace any locks beyond repair. Your company is in excellent hands with us because of our extensive background and knowledge.
High-security lock installation
Emergency DC Locksmith offers commercial high-security lock installation services to protect your business against forced entry. Our locksmiths are trained and experienced in installing high-security locks designed to resist picking, drilling, and other forms of forced entry. Place your trust in our team to deliver a professional and efficient service, guaranteeing your business's security and providing you with the peace of mind that comes with it.
Regarding commercial locksmith services in the Washington DC area, Emergency DC Locksmith offers keyless entry systems as one of our top offerings. Our team of professional and experienced locksmiths is an expert in keyless entry systems, with the skills and knowledge to provide installation, maintenance, and repair services to businesses of all sizes. We only use the highest quality products and equipment and are fully licensed, bonded, and insured, ensuring that your business is in good hands. Additionally, we are available 24/7 with prompt response time, so you can trust that your keyless entry system will be taken care of even in an emergency.
With our expert team of locksmiths, we are equipped to handle the installation of panic bars quickly and efficiently, ensuring that your business complies with safety codes and regulations. Furthermore, our panic bar installation service can provide you peace of mind in an emergency, as the bars can be quickly and easily opened to allow for a quick exit. Moreover, our commitment to customer satisfaction and attention to detail ensure that the job is done right. Therefore, contact us today to schedule an appointment and let us help keep your commercial property safe and secure.
At Emergency DC Locksmith, we recognize the importance of protecting important documents, which is why we offer commercial file cabinet locks as one of our essential services. Our experienced locksmiths possess the knowledge and equipment to provide a wide range of file cabinet lock options. Moreover, as a result of our commitment to meeting the diverse needs of our clients, we offer file cabinet lock installation, repair, and replacement services for businesses of all sizes. Additionally, we can provide keyless entry systems, master key systems, and high-security file cabinet locks for added protection. Furthermore, our quick response time and 24/7 availability ensure that we're there for you in case of an emergency lockout.
Emergency DC Lock and Key provide companies of all sizes with a comprehensive selection of commercial access control solutions. We have various options to meet your requirements, from basic keycard systems to cutting-edge biometric scanners. We can also install, repair, and maintain any access control system, thanks to the training and experience of our skilled locksmith crew. Moreover, we are available around the clock, so we will be there whether you need us for an emergency or routine maintenance.
Emergency DC Lock & Key offers business intercom systems that may help make your company safer. To improve internal communication and security, have our team of locksmiths set up a state-of-the-art intercom system. An intercom system will allow you to communicate with visitors and employees and monitor and manage access to your building. Therefore, you can be sure that your building will be equipped with cutting-edge communication and security systems since our team has the knowledge, skills, and resources to provide the best possible solution for your specific needs.
CCTV cameras installation
Our team of experienced locksmiths is fully equipped to handle the installation of CCTV cameras, making sure that your property is fully monitored and ensuring the safety of your assets and employees. Furthermore, we are committed to providing you with the latest technology in CCTV cameras to guarantee the best surveillance experience. As a result, We provide high-definition cameras that can be accessed remotely to allow you to keep an eye on your property even when you're away. Additionally, our 24/7 availability means that we are always there to assist you with any issues that may arise with your CCTV cameras.
Safes opening and repairs
Emergency DC Lock and Key can unlock and repair your business safely, giving you peace of mind that your valuables and papers are always protected. Any safe, from the most basic key-operated models to the most advanced digital or combination safes, is within our locksmiths' capabilities. In addition, we value your time and business, which is why we respond quickly to every call.
Alarm systems installation and maintenance
Emergency DC Locksmith knows the significance of a well-rounded security system for business buildings. That's why we now provide business alarm system installation and maintenance in addition to our standard locksmith services. The professionals at our company can create, set up, and manage an alarm system that is just right for your company. In addition, we keep the systems updated and in excellent working order, so you can rest confident that your property is as safe as it can be. Not only are we available around the clock, but we also react quickly to any alarms that go off, giving you peace of mind that your company is always safe.
Why Choose Us
When protecting your commercial property, you want to work with a locksmith service provider you can trust. Emergency DC Locksmith has been providing commercial locksmith services for years, giving us extensive knowledge and experience in the field. Our team of experts is fully licensed, bonded, and insured and is highly trained and skilled in handling any commercial locksmith needs, from simple to complex.
When you choose Emergency DC Locksmith, you can have peace of mind knowing that we use only the highest quality products and equipment to ensure that your security is up to industry standards. We understand the importance of timely service, and our quick response time ensures minimal disruptions to your business operations. We stand behind our work with a customer satisfaction guarantee.
In addition, we are available 24/7 to assist our clients with emergency lockout service and any other emergency needs. Contact us today to schedule an appointment or for emergency service, and let us demonstrate how we can help protect your commercial property efficiently and professionally.
Contact Us
Contact us today to schedule an appointment or for any commercial locksmith service. Our friendly and professional team is always ready to assist you. To reach us, call (202) 753-3681.
We are available 24/7 to take your call and provide your needed service. You can also fill out our online contact form on our website with any questions or inquiries.
Our aim is to ensure that you have complete peace of mind by guaranteeing the safety and security of your business. Trust in our experience and expertise to keep your commercial property protected. Don't hesitate to contact us. We are here to help.